"Meitei Yumjao" - The Endangered Art
By Boby Kangjam
The writer is a Senior Architect at Chapman Taylor
With the little experience I have gathered from my profession of being an Architect, I am making an effort to study on the conservation of an endangered Meitei Art "The Meitei Yumjao". Please feel free to comment and add more on this.
Every place and every society has its own art, style, culture and Architecture, so do "The Meitei Society". When we talk about the Meitei Architecture, the first thing that comes in the mind is the
Meitei Yumjao
, the space and place of birth of the entire Meitei Generation.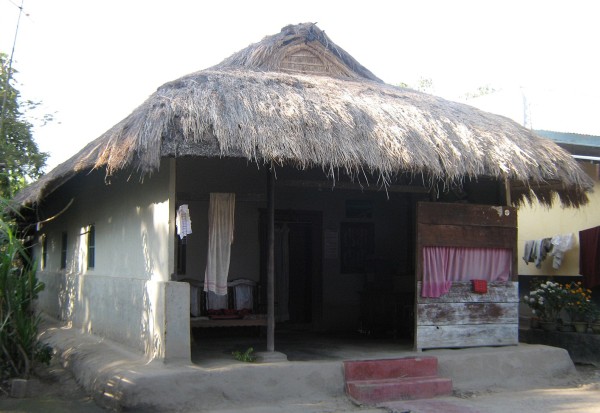 Unfortunately it is on the verge of extinction from today's Meitei Society. Whose fault is it? Is it mine, as an architect, yours as a Meitei or others? We never try to answer and go forward with time forgetting our origin, our birth place. It won't be a long wait when we will see Meitei
Yumjao
as a fairy tale and fantasy movie element.
Meitei
Yumjao
used to be a perfect dwelling unit of an ideal Meitei family, few generations back. Few people of our generation had the opportunity to live in it and enjoy the essence of it and cherish the life style. Maximum of us have only heard about its magnificent qualities or seen it in old Manipuri films.
So for the coming generation it will be an extinct art or entity, as people of Meitei society had stopped constructing Meitei
Yumjao
since 50 to 60 years back and replaced it with timber post - GI sheet or RCC –brick structures. It will be seen only in photographs or museums in days to come. The essence, importance and specialty of Meitei
Yumjao
can be seen only when we look deeply into our life style, culture and ethics. Each and every part has been properly designed and detailed to suit the lifestyles of Meitei people and the environment.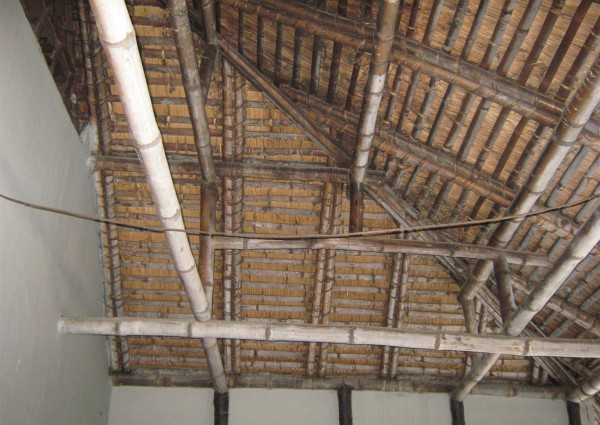 Type of House:
The "Meitei
Yumjao
" was of two types by its mode of wall construction. First one was of complete straw reinforced mud thick wall up to the roof height embedding the main load bearing post bamboos with
Pungjei
in different heights as reinforcement steel grass rod.
Second system of wall was of thick straw reinforced mud half wall up to a height of 4 to 5 feet and above that with split bamboo (
Wachet
) with uniformly distributed and binded
Shinghoot
by bamboo strips (
chepsi Paya
) and straw reinforced and cow dung mix mud plastering in different coats. This thick mud wall gives the required thermal insulation for a comfortable living space. Selection of mud was also one of the factors for creating a smooth, fine texture wall which is an earth-friendly and inventive way to bring a healthy and naturalistic life.
Maintenance of the House:
(
Leikang kanthaba
and
Phaklang wai teiba
) in general is done every year before the "
CHEIRAOBA
"- Meitei Chahi Houba( New Year) in the month of Sajibu Tha (April month) to start a fresh new life with clean and healthy environment and pray for good fortune in the coming year. Change of thatch roof is generally done once in eight to ten years according to the thickness and nature of the thatch used e.i.
Tumnou, Emom, Charot, Singnang, Charu
(Peddy straw)etc.
However
Chakhum Wai Teiba
,(Kitchen floor cleaning),
Emung Wai Teiba
(Room floor cleaning) and
Mangol Wai Teiba
( Verandah cleaning) is done daily as an unavoidable task in day to day life of the Meitei's in the mornings before start of any work by the Meitei women for the days good luck and success of the members of the family.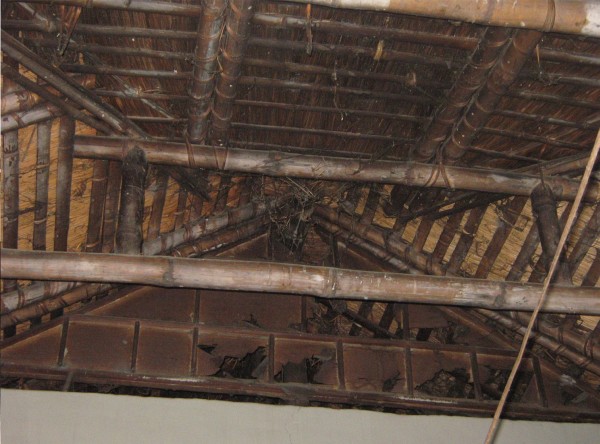 The Phunga Meifam :
The concept and necessity of
Phunga
in Meitei lifestyle is unavoidable. Our food habit of eating roasted / dry fish can't be entertained without a
Phunga
in or out of the house.
Phunga Meifam
inside the Meitei Yumjao also acts as a fire place which warms up the inside space in winter for a comfortable living and never allowed to extinct the fire all hours of the day.
Our "
Phunga waries
"(Folk stories) are never complete without a
phunga
and now our
Phunga Waries
have become bedtime stories. Present generation kids will never taste a true
phunga wari
sitting around the
phunga
eating
aloo, Mangra alouba
,(baked potatoes, sweet potatoes) etc).
Distribution of Rooms:
The distribution of entire house into different
kas
–
Phamel ka, lukhumka, ,leimarelka, piba Ka, ningolka, chakhumka, sanamahi laipham
, Grain storage space and
Mangolka
as per the requirement shows the concept and necessity to give specific separate space for specific functions. This reflects the respect, privacy and identity given to each member of the family and their personal spaces. This is the origin of our sincerity, honesty, character and culture of which we are proud of.
Building Material and Technique:
A "Meitei Yumjao" is built with locally available material like bamboo of different strength and size according to the requirement, say
Saneibi
for main load bearing members vertical and horizontal load distribution members,
Khokwa
being stout and thick, small in diameter as purlins and rafters,
Utang
for
Kanam
and
chepsi paya
, cane, mud, straw and thatch, using locally developed technique and style for fixing and joining various parts of the structure which works perfectly with the used material with the help of local artisan and craftsman.
Thus, it is economical, environmental friendly and job generating for the society. Easy availability of construction materials and community construction system in the early Meitei society help in maintaining a peaceful and harmonious society. (Lending hand to neighbors, friends or community in construction).
The technique and technology of constructing Meitei Yumjao is more than 500 years old and therefore not free from limitations of its own. The limitations of this system of construction have impacts on its structure, form and technical quality which in turn affect the physical essence of the habitable space.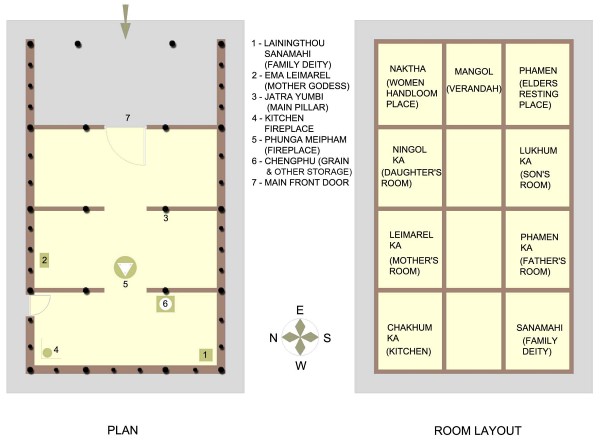 Negative aspects of "Meitei Yumjao":
Inability to provide physically separate rooms (kas) or space due to span limitation of bamboo truss roof system failed the concept of separate rooms (kas), privacy and space identity.
Inability to provide wider opening on walls due to cohesion quality of straw reinforced mud wall and absence of lintel system failed natural crossed ventilation and natural lighting leading to a dark, swampy and damp internal space.
Lower quality mud compacted plinth and floor with no proper foundation system could not prohibit the absorption of outside water during rainy season, making the inside space damp and stinky.
Meitei Yumjao has been planned and designed as a single nuclear family dwelling unit with no provision for extension or addition of space with the growth of family and space requirement. But only few families of previous generation were nuclear family.
The planning and design was not futuristic, due to less population and abundant land availability .
Use of mud floor and absence of provision for using water inside the house made it unsuitable for washing, cleaning and other water related functions inside the house.
As all the structure were supported with bamboo columns with no proper technical or chemical foundation system to protect the bamboo from rotting due to dampness or water seepage led to breakage of column at junction of floor and wall which inturn disturb the form and structure of the house reducing its life time.
Reasons for extinction:
Reduction in the availability of the specific species of thatch used for roofing, requirement of regular maintenance and changing of roofing material and scarcity of skilled artisan for the job led to the downfall of Meitei Yumjao.
With the development and improvement of lifestyles in various ways, everyone felt the need of the best space and facilities to live in which he can afford. These brought in the change in dwelling structure technically, culturally and aesthetically and led to the extinction of Meitei Yumjao. I won't say it is for a wrong cause, it was the need of the hour that led to its failure as it could not meet the requirements of today's generation.
We all know "
Meitei Yumjao
" has lots of limitations in fulfilling the present lifestyles, but I ask myself why? Did we ever try to develop it with time and need? I think no. We have never thought about it. But we know it is beautiful, intricately crafted, economical, sustainable structure with zero pollution, earthquake resistant due to flexibility of bamboo joints and one of its kinds in the world and it is a good solution to global warming.
Need of Preserving the Art:
If we try to work out and solve all the limitations of Meitei Yumjao – architecturally, structurally and culturally, it is possible to cater all the requirements and space quality of present day lifestyle and we can redevelop it and save it for our future generations otherwise our future generation will never know from where their lives have started, their origin and their roots.
Original Source:
http://e-pao.net/epSubPageExtractor.asp?src=manipur.Arts_and_Culture.Meitei_Yumjao_The_Endangered_Art